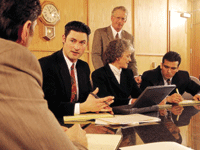 Utility Telecom will assist clients in developing a strategic telecommunications plan for the client's organization. After meeting with the client to determine the client's present position, strategic assets, and the expectations, we will prepare a project plan detailing the strategic planning process.
After the client approves the strategic planning process, Utility Telecom will begin evaluating the current environment of the client which generally will include restrictions imposed by statute through regulatory agencies, physical telecommunications plant, preliminary market analysis, present and future competition, and binding contracts (such as rights-of-way) that may affect telecommunications opportunities.
see sample Telecommunications Strategic Plan >
Concurrent with or immediately following the environment study, Utility Telecom will analyze and evaluate the client's internal present and future telecommunications needs.
Generally, the current environment and needs assessment drafts will be reviewed with the client before proceeding.
Based on the environment and needs agreed upon, Utility Telecom will draft a plan which will detail the steps necessary, including cost estimates, to achieve the future telecommunications position. We will then document reasonable alternative paths to the same future position along with rough cost estimates. These plans will then be reviewed and adjusted with the client. With client's agreement, Utility Telecom will author a detailed action plan accompanied with recommendations for implementing the plan.
Contact Utility Telecom Consulting Group to discuss your telecom needs today. You may also fill out our inquiry form and we'll get back to you immediately.