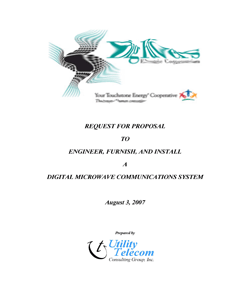 Purchasing telecommunications systems and/or equipment as part of a medium to large size project within a utility environment can cost tens, even hundreds, of thousands of dollars. Outsourcing planning, engineering & design, construction, project management, and/or drafting services can be in the same category, depending on the size and complexity of the services required. Acquiring the system/equipment or securing the services needed through a competitive bidding process is, without a doubt, in the best interest of the utility.
The bidding process usually starts with the utility issuing a Request For Proposal (RFP). Prospective bidders (consulting firms, solution providers, vendors, suppliers, contractors, etc.) are invited to submit bid responses to the RFP. The bids are evaluated and the contract or purchase order issued to the winning bidder. One might say that this is a fairly straight-forward and simple process – and it is!
Utilities, however, know all too well that the 'devil is in the details' when it comes to preparing an RFP as well as navigating through the bidding process. Utility Telecom has been preparing RFP's for our Clients for years and we are well versed in the technical, organizational, and negotiation aspects that go along with the bidding process in the utility environment.
We firmly believe that the amount of time and effort expended in developing the RFP is directly proportional to the quality and responsiveness of the bid responses. This is why we take the time to discuss (and in some cases research) the technical requirements and design criteria provided by our Client(s). This becomes the foundation on which we build the technical specifications in the RFP (for instance, for a system or equipment RFP, we will oftentimes have requirements down to the sub-system, sub-assembly, and/or ancillary equipment level). We have successfully used this approach for system/equipment or services type RFP's.
We consider it a compliment to the technical excellence and experience of our staff when, during the process of developing a Client's RFP, the Client also engages our help through completion of the bidding process. We pro-actively help our Client in performing the bid response evaluation in an objective manner especially mindful not to overlook other parameters in the bid response that weigh in on the results of the evaluation, e.g. the technical section carries a lot of weight but it is not the 'sole and only' parameter to be evaluated.
This also positions us to effectively negotiate, if requested, with the winning bidder on the Client's behalf as it relates to certain technical, operational, or implementation issues and/or concessions that need to be resolved.
Utility Telecom stands ready to assist you in developing the RFP that you need today. Give us a call or contact us at Contact@utcg.com to discuss your requirements and receive the help you need today!
Click here to download our RFP Preparation Guide (PDF).